Dr. Mote Speaks at EWB Fall Kickoff General Body Meeting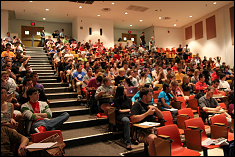 EWB kicked off the year with this General Body Meeting featuring Former University of Maryland President Dr. C. Daniel Mote. Students of all years and disciplines packed into the big Chemistry lecture hall in anticipation of hearing about all of Engineers without Borders' projects going on in College Park. Guest speaker Dr. Mote gave a riveting speech on the success of the University of Maryland Engineers Without Borders chapter.
Dr. Mote expressed his enthusiasm in being able to support the chapter and his excitement in seeing what progress the projects would make this school year. The entire room was eager to hear what Dr. Mote had to say and pleased about what he had to say regarding the chapter. From there the project leaders launched into details about their projects.
Peru lead, Kevin Hogan, discussed the tentative assessment trip to Compone, Peru this winter. He expressed his hope in successfully building slow sand filters in country in order to disinfect their water supply.
Sean Connor, the Ethiopia lead, briefed the students on their summer 2012 assessment trip and expressed his concern for the current state of their marketplace which tends to flood in the rainy season.
The Burkina Faso project lead, Steve Emling discussed their monitoring trip from the summer of 2012. He and a small group of students went back to Dissin to observe past implementations as a means of assessing how to move forward.
After that, the MDSE project leads discussed their projects. Matthew Smith the Sierra Leone lead informed the crowd of this summer's implementation trip where his team installed a photovoltaic array and wire the school's new lights and outlets.

Last was Christopher Leininger who addressed how the local project was finishing their project for the Peace and Friendship Garden on campus this fall. His team is beginning to look for new projects to continue with on campus.

All the project leads then split into different areas around the room to allow students, new and old, to approach them with questions they might have. All in all it was a successful first General Body Meeting and Engineers without Borders-College Park was pleased with the turn out and the praise of Dr. Mote.
September 24, 2012
Prev
Next