EWB Monitors Past Burkina Faso Projects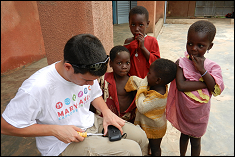 By: Anastasia Kouloganes

This past summer, several members of the Burkina Faso subgroup of EWB traveled to the in country location to monitor each of their past projects. The travel team was composed of six UMD students and Chuck Schwartz, the faculty adviser of the project. Tiffany Martindale, a member of EWB-USA's project management team, also accompanied the team.

The EWB-UMCP chapter started its project in Burkina Faso in 2007, and has since traveled there a total of five times. The group has developed a partnership with a community of villages that surround a larger town, named Dissin, which lies southeast of the capital. In this time, students have installed solar panel lighting systems in both schools and clinics, automated well pumps in two villages, solar recharge centers that allow the recharging of phone and care batteries, and, most recently, a specially designed water pump and slow-sand filter at a clinic.

Their most recent trip lasted for only ten days and focused on analyzing the quality of past implementations as well as how the community took them. Steve Emling, the project's leader, was impressed with the findings, "I was genuinely surprised and impressed with how well the systems have been maintained…Many of the projects were still functioning and all but a few of the villages had made a serious effort to keep things running as long as possible. My hope is that, with the information we passed on to the locals during this trip, all but a few projects will be fixed by the community without any further help from EWB-UMCP."

The group also spent some time repairing minor system errors. For example, the group traveled to the clinic that housed the water pump and filtration system, which was reportedly broken. The head nurse, who quickly greeted the team upon their arrival, emphasized the importance of the system to the clinic and local community. The team was able to fix the system after discovering minor malfunctions, such as that one of the pipes was clogged. Before the team's departure, they managed to improve the system to avoid any future issues.

Overall, it was a very successful trip in that the group was able to examine the community's reaction to each of the past projects. The group was able to gain a better understanding of the community's functioning, its needs, and what community members place importance on. Looking toward the future, the group intends to travel back to the state for another round of monitoring and hopes to find another project near Dissin. This, however, is entirely dependent on the community, so the team is currently attempting to strengthen their connections throughout the community. Regardless, this past trip made it clear that the team's work had a very positive impact on the villagers of the Dissin area.
September 18, 2012
Prev
Next