MDSE - Corey Redmond Mentors Group in Sierra Leone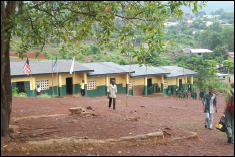 This past June, Corey Redmond, a Mechanical Engineer in R&D, embarked on a nine day trip to assess a solar panel project in Sierra Leone. The group consisted of six students, two faculty advisors, and two professionals in the field. Corey represented the group as a mechanical engineering mentor to help in guiding the students on their project. Corey became involved in this group after he found out that a friend of his was in a similar program with Johns Hopkins University. He reached out to the project advisors and now he serves as one of the main professional contacts for the group. The main goal of the project is to supply a school in animpoverished area with solar panels so that they can provide lighting inside and out. They would like to have their school serve as a community center, which was something they could not dobefore.
Located in West Africa, Sierra Leone is a country that is about the size of South Carolina, but it has one of the lowest GDP's per capita in the world at $800. A startling four out of five people who live there live in poverty which made this location an ideal choice for the University of Maryland Sustainability Engineering group. This program is not only going to provide electricity to power lighting and computers, but they one day hope to guide locals in becoming more independent with their own well pump for easy access to water.
The project has been funded by the Madieu Williams Foundation and University of Maryland grants. Madieu Williams is an NFL cornerback who played for the Maryland Terrapins and now the Washington Redskins. He is from Sierra Leone and helped pay for the school where the students installed solar panels.
This trip was the first, but certainly not the last time that Corey will be involved with these types of projects. The University of Maryland Sustainability Engineering group will pick another location in Africa or South America to install solar panels to as soon as they are finished with their work in Sierra Leone. Corey will begin grad school next fall at the University of Maryland which will help keep him closer to the students in the engineering group
September 4, 2012
Prev
Next