MSE Receives Campus Green Fund Grant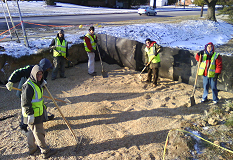 The Maryland Sustainability Engineering group has been awarded $9,000 by the Campus Green Fund for implementation of a bioretention rainwater garden near Parking Lot 1. The funds were used to purchase materials for the project, which was implemented in January, 2011. This project was one of a handful to receive support from the initial round of Green Fund allocations.
The Campus Green Fund provides money for sustainability initiatives on campus, and is financed entirely by dedicated student fees.
Related Articles:
MSE's Guilford Run Bioretention Project Implementation
UMD Attends the 2011 EWB-USA International Conference
Ethiopia Team Returns from Bridge Assessment
Hendrick Receives CH2M Hill's EWB-USA Scholarship
Engineers Without Borders Chapter Receives Grants
EWB Burkina Faso Project Awarded Grants
UMD Project Featured in EWB-USA Report
Watch Stephens UMD Commencement Speech Online
Earth Day Event to Focus on Energy

February 16, 2011
Prev
Next