New Mobile Resource for Students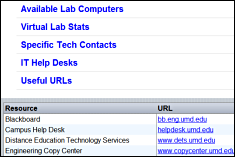 Engineering Information Technology has made a mobile resource page available to students with helpful tools such as finding an available computer lab seat, technical contacts and useful links to Blackboard, Engineering Copy Center and more.
Check it out! Point your browser to: www.it.umd.edu/m.
You do not have to use a cell phone to view the page. It will work in any browser. We hope you find this useful.
October 5, 2010
Prev
Next