Engineers Without Borders Chapter Honored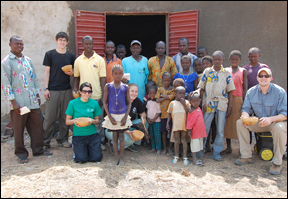 The National Council of Examiners for Engineering and Surveying (NCEES) has recognized the UM chapter of Engineers Without Borders for its work in Burkina Faso. The chapter received a NCEES Engineering Award and $7,500.
The award specifically applies to the work the chapter did in Dissin, Burkina Faso, on a solar battery-recharge project.
The award was presented by Skip Harclerode, P.E., chair of the Maryland Professional Engineer board and a Clark School alumnus. For more information, please click here.
Related Articles:
EWB Team Implements Chlorinator in Peru
UMD Named SE Region Premier Chapter
Engineers Without Borders Chapter Receives Grants
MDSE Installs Solar Array in Sierra Leone
Watch Stephens UMD Commencement Speech Online
Lovell Recognized for Service Leadership
EWB Implements Ethiopia Bridge Project
EWB Project Helps Improve Irrigation in Peru
Earth Day Event to Focus on Energy
Hannah Henningsgaard Receives CIEE Scholarship

June 8, 2010
Prev
Next